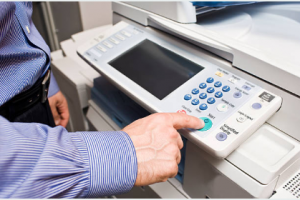 Many businesses underestimate the importance of having a really good copier in the office.Some others have it, but have not explored much of the machine's features. Sadly, these businesses are missing out on a lot of valuable copier tricks to make their work easier and more productive.
In order to orient you once again with the "secrets" tricks that these compact machines carry with them, here are the underrated features of copiers that will improve business productivity, no doubt.
There is automated stapling and hole-punching.
Most office documents need more than just printing. There is bookbinding or attaching of a few pages together. While these tasks look easy to do, they cost so much time and energy,especially when an emphasis on careful execution for these tasks are given. In conferences, big board meetings, and huge client gatherings where presentation is important, for example, these
are extremely important tasks.
It is easy to not be able to imagine any other way, but to manually staple and punch holes on the documents. However, copiers now have an automatic feature that does all these for you.Totally hands-free feature, too. While the machine is compiling the documents, you could be just doing other tasks for the day. Just return to the machine once they are done and ready to be distributed.
In copier leasing, you may expect to know these things. Most of them will discuss the basic yet fundamental copier functions. However, copier lease Little Rock dealers are more than happy to demonstrate it for you.
All transactions are recorded.
Ever performed or wanted to perform a combination of tasks in your copier? Pressing multiple buttons for the whole set of tasks could be inconvenient, especially if you perform these functions all the time. Fortunately, copiers can now smart-record tasks and turn them into a one-
press shortcut. This way, you would not have to press a lot of buttons and wait for each function to be done.
You can just press the shortcut button, which can be on the home display of the panel. The tasks will be performed chronologically and continuously without the need for you to stand by it the whole time. You can use the free time to continue working on other business assignments and come back to the copier once the task is done.
Tracked and controlled access are available.
Copiers consume supplies that offices need to monitor for inventory. The expenses for paper may not seem like a big deal, but considering how much it is used in that setting, it needs to be monitored. Copiers have a feature that has solved this problem for you.
You can limit the access for the machine. Have selected people get the access, choose a limit of print volume for each user or department, and/or monitor the activities of the machine. You can even read the report for the activities from the system. Given that copiers can integrate with your devices and office systems, that should be so much easier to do.
Access to a comprehensible record Is extremely important That way, you get to have a full idea of how much you print, how you could budget better, and who you should talk to for help to lessen print expenses.
Mobile printing is integrated into the system.
Copiers can easily connect with devices and other office systems through Wi-Fi, Bluetooth,cloud, storage applications, and other online tools. Without a doubt, the feature is both lifesaving and timesaving.
It is lifesaving because if someone outside is on the urgent need to fax a document to a client, it could be done remotely through their smartphones. It is timesaving, on the other hand, because you can just use the copier functions from your desk while you work on other important business
priorities.
If you do not have a copier yet, these are the best reasons to get a copier lease agreement right away. Copier leasing is a practical choice not just financially but maintenance-wise as well. If you have a copier already, you might want to explore these functions and improve your business operations.