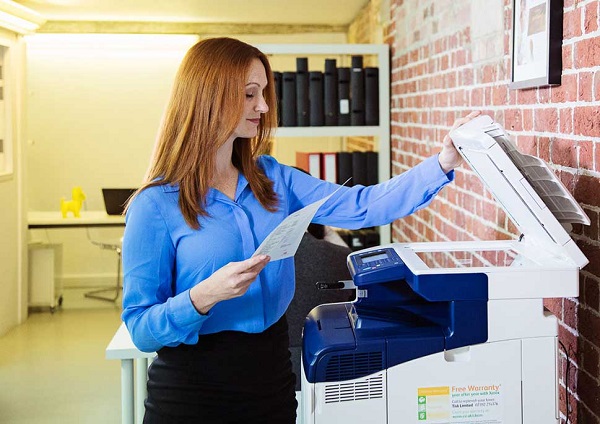 A copier is an electronic machine that makes copies of documents and images. Copiers were once single-function devices. Now, enterprise-grade copiers are usually networked and perform numerous functions. They are also available in desktop or free-standing models. For home and small business use, copiers are usually bundled with printing, scanning, and faxing capabilities in MFP devices. 

Most copiers use xerography, a duplication technology based on electrostatic charges. The technology was developed by Xerox. For a lot of years, photocopying was known as xeroxing.

The average copier machine costs around $1,560 with higher-grade commercial copiers reaching $15,000 to $40,000 depending on quality, printing speed, and advanced features like scanning, stapling and faxing options.

A really great copy machine may cost around $170 or more, a standard commercial copy machine ranges between $3,000 to $12,000 depending on your needs. A lot of businesses choose to lease or rent their machine, usually for periods of between three and five years. Lease and rental rates are set based on your expected copying needs, so be sure to determine your current workload before you sign a deal with a company.

An average cost for a new copier that prints up to 55 ppm costs around $13,000. The cost for a heavy volume copier that can do large workloads costs around $35,100. Copier leases can cost around $195 to $920 a month. Used office copiers can cost around $5,800. Low-volume copy machines can be leased for $86 a month. 

A copier makes copies of an original document through one of two methods, analog photography, and digital scanning. The primary difference between a business copy machine and a home copy machine is printing volume, usually measured as maximum pages every month. Commercial copy machines range from 8,000 copies every month on the low end to 40,000 plus on the high end. 

Copiers are an office staple, so whether you rely on a single or multi-function copier, there is no denying that an office copier can be as busy as the staff themselves. Without any regular servicing, the demand can lead to copy issues like cartridge and toner issues, paper jams, lines or streaks on paper, wrinkled pages, random spots across your prints, and discolored printing. 

An office copier is an important tool in your company's arsenal. When it is down, your work comes to a halt. Knowing how to care for your copier properly is one of the most important parts of running an efficient business. Before you even start to clean and maintain your machine, make sure that you turn off the power first. This will protect you and your copier from any electrical accidents.

Check with the manufacturer or provider to ensure that you are using the best possible paper and toner for your copier. Higher quality paper will result in less dust inside the printer, which, in return, will mean less need for any maintenance.

Load the paper immediately, and avoid jamming it into the copier. Make sure that you do not lead wet or folder paper into the machine, as this could cause it to jam. Cleaning your copier regularly will extend its life. To clean the glass of the copier, you can spray a lint-free, nonabrasive cloth with glass cleaner and clean the glass. Do not spray the clear on the glass, protect the glass from any scratches by removing the paper clips or staples before you scan any documents.

Even after exerting your best efforts, your copier is still going to take a beating. It is a work machine so that are places and components within the copier that you can't reach to clean. Make sure that these stay in good working order with regular maintenance service checks from a qualified service professional who knows copiers very well. This will help extend the life of the copier.

If you are in Little Rock and you are looking for copier lease services, you can contact copier leasing services in Little Rock. They can assist you with any copier leasing services in Little Rock